Get Your Money Back If It Doesn't Hold





Instantly Eliminate Neck Pain,
or Your Money Back!

If you're reading this, chances are you spend at least 6 hours a day stuck in front of your computer, phone or TV.


The result?
Your neck is stiff, sore and painful.
Long-term, this can lead to more serious issues like arthritis, a reliance on pain killers and in some cases, high-risk surgery.
Using the power of cervical traction, the
Posturlize
reverses neck damage which will eliminate your neck pain, TMJ and tension headaches in just 10 minutes a day.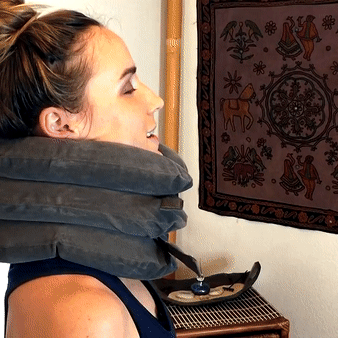 Get A Relieving Stretch

Wherever You Are!

Don't Let Neck Pain Control Your Life:
Enjoy rapid neck pain relief with this chiropractor-recommended neck extender. Made from super-soft, skin-friendly material the inflatable neck stretcher offers chronic neck pain relief and spine alignment.

Comfortable And Lightweight Corrector:
By inflating the neck decompression collar you control the amount of stretch your neck needs. With two velcro straps, you adjust the tightness of the device so it won't cut your breath.

On-The-Go Pain Relief: The deflated neck relaxer can easily be packed in your bag or suitcase so that you can stretch your neck on the go wherever you are. No assembly is required. Enjoy the relief the neck decompressor brings to you!
Don't Let Neck Pain
Control Your Life!

Quality Is Never An Accident: Our Neck Traction is tested against leading neck stretchers and is designed to relieve cervical pain and tension. It helps to relieve headaches, stiffness, or dizziness and corrects sitting posture. Fits neck sizes from 12" to 17". (around the neck)

100% Satisfaction: If for any reason you are not 100% happy with your neck relief device we offer you a full refund. If you have any questions about this product or how to use it, please contact us. We will reply within 24 hours

It's Also Used To Alleviate Pain From:
- Neck injuries
- Pinched nerves
- Cervical spondylosis
- Treat and flatten bulging or herniated discs
joints, sprains, and spasms
- Helps to achieve an optimal Spine Alignment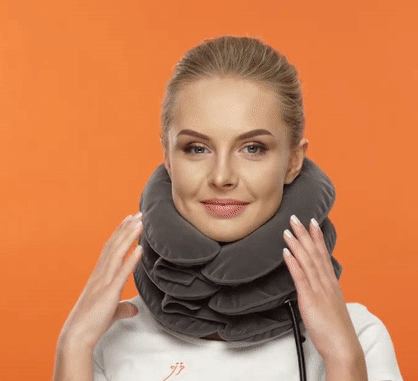 Customers are obsessed...


I have fibromyalgia and chronic pain in my neck area. I bought this to see if it helps me with pain relief as a sort of physical therapy type deal. I have only had it for about a week now, but I notice slight differences in my pain level. Any difference is significant for me, so I am glad. The material it is made of is really soft and comfortable, so that's a big plus. The bulb pops right off, so it isn't swinging around, and it's easy to put on. Inflates easy enough. In fact, I enjoyed inflating it because it was like squeezing a stress ball, so a two-in-one deal. I'm excited to continue using this and see more improvement as time goes by. I would definitely recommend it!


Very easy to figure out. Definitely stretches out my neck. Hopefully, it'll keep me pain-free between chiropractor appointments. I've only used it once, so I don't know yet, but it does feel similar to the neck traction that I get at my chiropractor. I like that it's soft and easy to adjust, and will continue using it.


I laughed when I first ordered this, thinking that it wouldn't work. I couldn't be more wrong! It works great! It takes a bit to inflate & some foam to eliminate the need for so much inflating would be nice, though. As far as pain relief in my cervical and thoracic spine, it works VERY well! So pleasantly surprised!
Jack Robertz (New Jersey)


I just got this today, and it gets tight around the neck if you're not sitting right, so you'll have to move around and adjust what's best for your comfort.
..and raving on social media 😻

Check out our FAQ or email our support team at support@posturlize.com
Fits neck sizes from 12" to 17". (around the neck)
How does the Posturlize work?
Posturlize™ is an inflatable neck traction device. It inflates with air using a high-efficiency hand pump. When it's partially inflated, it functions as a neck support. When fully inflated, it will elongate to support the weight of the head to allow the neck muscles to relax. Further inflation will stretch the neck and shoulder muscles while decompressing the spinal disc and joints. The pressure is adjustable so you can set the stretching to your comfort level.
Will the Posturlize squeeze my neck?
No, absolutely not. The unique triple layer system feature included in the NeckChamp expands lengthwise; it only provides a vertical stretching action for your neck.
How long should I be using it?
For best results, we recommend that you use the NeckChamp about 2-3 times a day for at least 20 minutes each time. However, if you would prefer to use it for a longer period of time, it's safe to do so. (The majority of people will obtain results within 1-3 treatments. Those with slightly more pain and tension might have to leave it on for longer than the recommended 20 minutes.)
Can I use Posturlize while lying down?
Yes, you may definitely do so. However, it is more effective if you are sitting in an upright relaxed position. We recommend that you do not sleep with the NeckChamp on fully inflated.
How will the Posturlize help me with posture?
The NeckChamp will lift the head up and remind you to straighten up. It will help you become more aware of your posture especially when you are sitting down. With regular use, over time, it will also help to train your spine to become straighter.
Where can I find my tracking number?
When your items are shipped out, you should receive an automatic notification from our system via email providing you with a tracking number.
You can check the status of your package here

If you have trouble finding your tracking information, please contact support@neckchamp.com for assistance.
How long does it take to deliver package to my country?
Standard Shipping Times
United States: 7 - 15 Business days (Depending On State)
United Kingdom: 5 - 15 Business days
Canada: 10 - 25 Business days
Australia: 6 - 15 Business days
Europe: 7 - 15 Business Days
Processing Times
Orders take 3-6 business days to process after placing the order before shipping out. We do not ship out on weekends.
Due to excessive orders, we might have delays up to 2 more days.
Unexpected Delays
In some instances, the delivery may take longer than the standard shipping times stated above. External factors might cause shipping delays such as international customs processing and holidays that we cannot control. Please contact us if your package is taking too long to arrive and we will work with you to resolve any situation.
If you have any other questions, feel free to contact us at support@neckchamp.com